Wink Taylor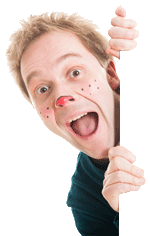 Wink Taylor has appeared alongside some of the greatest names in light entertainment such as Norman Wisdom, Ken Dodd and Paul Daniels to name but a few. He has also starred in venues as diverse as The London Palladium, Theatre Royal Drury Lane and Birmingham's Symphony Hall.
In a hugely varied career Wink has played the piano for Princess Anne, performed a ventriloquist routine for Mohammed Al Fayed, appeared in a Dr Who Radio play and has even lived and worked in a Circus.
Wink was also the voice and writer behind the international range of celebrity talking greeting cards - Chatterbox, (twice the recipient of the International Award for Best Comedy Greeting Cards.)
As a puppeteer he has "had a hand" in a number of famous puppets and this has taken him around the world. He has also written for children's television favourites: Postman Pat, Basil Brush and Sooty. He can be seen every week on ITV1 in the Sooty Show, where he not only wrote most of the episodes; but also appears in a variety of different disguises!! For Sooty he has written scripts for guests such as Brian Blessed, Ann Widdicombe, Brendan Cole and Keith Chegwin to name but a few. Wink regularly tours the country with his own puppet character - Theo The Mouse.
Wink Taylor is that extreme rarity in show business: a true all round entertainer.